2017 LifeKeepers Award recipients
Zack Makoare
Congratulations to Zack Makoare, recipient of the inaugural National Lifekeepers Supreme Award, for his work as director of Te Taitimu Trust, helping to prevent suicide in the Hawke's Bay region.
Zack Makoare is founder and chief executive of Te Taitimu Trust Hawke's Bay. As a couple, Zack and his wife Gina have been bonded in their drive to prevent suicides after losing their teenage son to suicide in the early 2000s. Zack and the trust are actively involved in providing a number of activities for Māori youth and their whanau. This includes a week-long camp involving 150 youth focused on building resilience, connectivity, self-esteem and leadership as well as youth leadership and career pathway programmes. Zack is described as someone who is unashamed and selfless when it comes to putting himself out there to benefit others.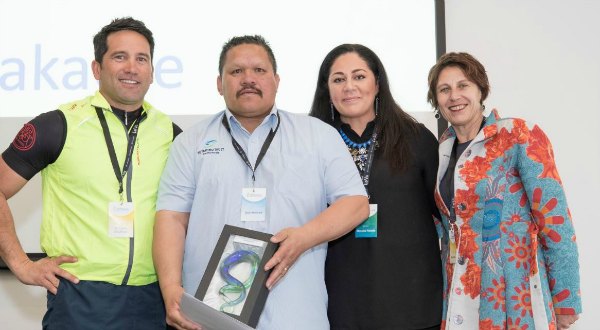 Pictured above (left to right): LifeKeepers Ambassador Dr Lance O'Sullivan, Zack Makoare, Le Va CE Dr Monique Faleafa, CASA CE Maree Inder.
Christine Macfarlane
Christine is a counsellor and facilitator at Mindful Me in Timaru. Christine was nominated by South Canterbury DHB for providing counselling and mindfulness group programmes in South Canterbury, particularly encouraging social wellbeing in young people. Christine is described as having a well-needed skill set, consistent with the principles of best and of safe practice.
Jennie Jones
Jennie is the postvention coordinator at Hutt Valley DHB. Jennie was nominated by the Regional Public Health service for her tireless work to assist both individuals, families and communities when bereaved by suicide. Her ability to collaborate with others and has initiated a Wellington regions network group who meet regularly to inform, advocate and to provide suicide prevention training. In her nomination, Jennie is described as consistently going above and beyond her role and hours of work.
Joseph Fa'afiu
Joseph was nominated by Counties Manukau DHB and is the founder of HopeWalk Suicide Prevention Trust (NZ) from South Auckland. HopeWalk is a movement across the country, whereby people walk in the community to unite people affected by suicide to reduce isolation and stigma, and create hope. In his nomination, Joseph is described as being humble, committed to working with and learning from others.
Lovey Ratima-Rapson
Lovey is the manager for the Hauora Team at He Waka Tapu. She was nominated by Canterbury DHB, and has been instrumental in the collaboration between He Waka Tapu and the Waitaha Suicide Prevention Action group, project managing hui which bring together Canterbury communities to discuss how they could work together to reduce suicide. Lovey is revered and respected by her communities.
Leigh Murray
Leigh was nominated by ADHB as the Auckland DHB family advisor and a member of the Suicide Prevention and Postvention Advisory Committee. Leigh is a strong advocate for families in distress and works tirelessly to ensure families have access to mental health services and the right information. Leigh is also known for her ability to engage people at all levels within the healthcare system and within families and communities.
Moki Kiwa Whareaitu
Moki Kiwa is the kaiurangi navigator of the Kia Piki Te Kaha Suicide Prevention Navigation Service at Best Care Whakapai Hauora Charitable Trust in Palmerston North. Kiwa was nominated by MidCentral DHB for her leadership and role in establishing and developing a Kaupapa Maori Suicide Prevention Service.
Paul Hampton
Paul is a senior constable with the South Canterbury Police. Paul was nominated by South Canterbury DHB for the leadership he provides within the police force, particularly with people in crisis. He is described as a critical conduit for suicide prevention, making sure people with mental health problems receive treatment, and removing firearms and restricting access to other lethal means from people at high risk of suicide.
Susan Westbrook
Sue is the social development manager at Ngati Tahu Whaoa Runanga Trust. Sue was nominated by Lakes DHB for her leadership within the Reporoa Suicide Prevention Committee Group (located between Rotorua and Taupo). The group also looks at other social issues that broadly affect its rural community, such as holiday programmes which provide safe, connected environments for young people. Sue is described as someone who works tirelessly, giving her time freely to strengthen the rural community of Reporoa.
Marcia Paurini
Marcia was nominated by Taranaki DHB for the incredible support she offers to the rural community in the Taranaki region as the coordinator for Rural Support Taranaki. The type of supports range from temporary accommodation, to baking, babysitting and names of relief milkers. Marcia is described as having made mental health and suicide prevention her mission, stating "there will be no more rural suicides under my watch".
Rebecca Hooker
Rebecca was nominated by Northland DHB for her leadership roles in the youth suicide pre- and post-vention space, in her role as kaiawhina and suicide prevention coordinator at the Ngati Hine Health Trust, Whangarei. She is described as a natural leader and has a humble approach. Her leadership style brings people alongside her. Rebecca is genuine, solution focused and understands how to connect to students and young people, as well as their whanau, professionals and clinicians to keep life safe.
Toni Ryan
Toni was nominated by Wairarapa DHB and is well known across the region for her strong advocacy for young people. She has initiated a number of projects, such as the first bereaved support group in Wairarapa, and is well known nationally for her 'shoe demonstration'.
Darrell Evans
Darrell was nominated by South Canterbury DHB and is the clinical nurse manager at the Alcohol and Drug Service. She was nominated for her leadership role in postvention, offering support to families, schools, workplaces, first responders and all others connected with the person who has died. Darrell is described as highly competent, compassionate and caring. Given the difficult nature of her role within the community, she does a superb job.
The Well Being Team
The Well Being Team at Te Awakairangi Health Network in Lower Hutt was nominated as a group rather than an individual – offering a number of different services related to reducing suicide including counselling and training. Their comprehensive approach has created seamless, supportive, collaborative and quality methods and programmes which have endeavoured to minimise risk, reduce gaps and provide a service which sees people and their families live a life worth living.
About the awards
Communities play a vital role in reducing suicide, and we know there are many individuals and organisations who work very hard to be a part of the solution, to support those at risk of suicide to get the help they need. They're ordinary people doing extra-ordinary things - creating communities of care to prevent suicide.
As such, we wanted to recognise this hard work through an annual awards ceremony, highlighting those already championing suicide prevention and the incredible work that these individuals and organisations have been doing throughout Aotearoa New Zealand.
We asked regional suicide prevention coordinators within District Health Boards across Aotearoa New Zealand to nominate individuals or organisations who have been making an outstanding contribution to preventing suicide in their local community.
Selected nominees were invited to a National Lifekeepers Award ceremony on Friday, 8 September in Auckland, as part of the official launch of LifeKeepers, where the efforts and achievements of the nominees were celebrated through the awarding of plaques and certificates. There was also a special presentation for a Supreme Award winner (awarded to Zack), including a prize to attend the International Association of Suicide Prevention 2018 Asia Pacific Regional Conference in Northland, 2-5 May 2018 (registration, travel and accommodation).
For 2017 we were grateful to Clinical Advisory Services Aotearoa (CASA) for being the sole sponsor for the awards. Check out their website to read more about their work in suicide prevention, postvention and wellbeing.